I have been feeling compelled to talk about self-love, not just because it is the "love" month but also because I know that the heaviness of the world right now is really weighing on each and every one of us in different ways. And I see in myself as well as those I care about deeply, how we are fighting so hard to feel good, positive and joyful. As a mother, homeschooler and business owner, I have to prioritize making a conscious effort to do at least one thing (many times it is small) every day that truly nourishes me. I have also been working hard at giving myself grace and forgiveness as well as looking at my positives rather then the areas where I don't excel.
What is self-love?
Self-love is the fuel that allows an individual to reach their full potential, it is filled with compassion, grace, and gentleness. Making space and prioritizing ourselves allows us to embrace our lives completely and wholeheartedly. Self-love is learning to extend kindness towards ourselves, even when we struggle and suffer.
Actions of self-love are not always indulgent and luxurious like spa days and vacations. It comes down to showing yourself the love & respect you need to be whole. Self-love should be a daily practice & can happen in even the smallest of moments. You can give a little love to yourself by mindfully drinking your cup of coffee free of distractions, feeling the warmth of the shower hit your back, connecting with nature & your breathe, listening to your favorite music & dancing, meditation, journaling….you get the picture!
To-do:
Your action step today (and everyday) is to take 5 minutes for yourself. Make those 5 minutes truly count by being fully present-show up, be intentional, aware of your thoughts & feelings, & soak in any sensations. 5 minutes doesn't seem long but if you make it truly count, it give you so much beauty in return!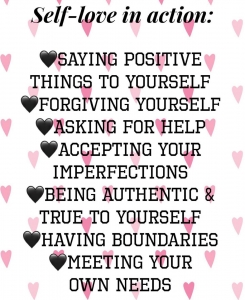 http://34.215.117.86/wp-content/uploads/2018/12/sapphire_logo.png
0
0
Stephanie
http://34.215.117.86/wp-content/uploads/2018/12/sapphire_logo.png
Stephanie
2022-02-02 20:50:02
2022-02-02 20:50:02
Self-love in action…